OVERVIEW
COUNTRYSIDE OF SRI LANKA HOLIDAY PACKAGE 7D-6N
Kandy, Nuwara Eliya, Ella, Tissa, Yala, Mirissa, Negombo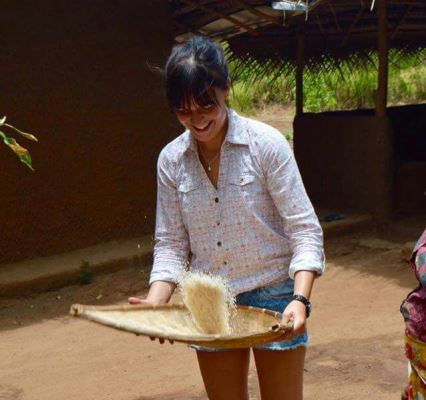 7 Days 6 nights Holiday Package to Kandy, Nuwara Eliya Ella, Tissa/Yala, Mirissa and Negombo. You will experience amazing climate variation in Sri Lanka, nature, water falls, country side and lot more. This tour bundle with Kandy sightseeing and shopping in kandy, visit to the Dalada Maligawa (The golden roofed temple) sacred tooth relic of Lord Buddha. Also you can visit Srilanka's cultural center to see the most beautiful cultural dance in Srilanka. You will visit to the hill station of Nuwara Eliya, nicknamed "Little England", En-route you'll stop to enjoy two waterfalls beautiful tea plantations. You will have a chance to taste a garden fresh cup of tea from finest tea picked from plantation. Then you will enjoy very nice beach in Mirissa with more excitements of Madu river safari and Turtle Hatchery. Best package for a holiday with peace of mind and spend days with nature and beautiful beaches of Sri Lanka together with your family.
USD 710
Per Person
Detailed Itinerary 
Day 1 – Kandy 
Temple of Tooth Relic : You will be visiting Buddhist's one of the most sacred place "Sri Dalada Maligawa" also called "Temple of Tooth Relic", in heart of the Kandy city. The sacred tooth relic of Lord Buddha was enshrined in here. It shows the Sri Lankan Buddhist culture. Even more there are museum and other many historical things to look at. As this is very sacred place for Buddhists, no shorts and low cut dresses, tops are allowed. You have to wear clothes that cover your legs and your shoulders, and remove your shoes.
Cultural Dance Show : Then you will have a chance to experience Sri Lankan cultural dance performance in Kandy. Kandy dance performance is wonderful and it is endemic to Sri Lanka, all consist of traditional drums and hones. You can see very nice dance performers similar to the performers in  Kandy temple of tooth relic "Perahara" having cultural dance and other performance in the month around July in each year.
Kandy City Tour : Kandy City Tour will cover tourist attractions in the Kandy City. Also there will be a chance to visit Kandy City Center where it has lots of shops where you can buy different locally made things like souvenirs and batik clothes.
Peradeniya Botanical Garden : Then you will visit one of the most popular botanical garden in Peradeniya, near to Kndy city. Peradeniya botanical garden is the best botanical garden with great history and very nice surrounding in the Valley of Mahavali River in Kandy. You can get food inside restaurants for a fair rate. Don't forget to visit the "Orchid House" inside the garden with various orchids. And some of are endemic to Sri Lanka, Specially Orchid. 
 
Gem Museum : Gem museum is one of the places where you will enjoy Sri Lankan precious gems.  Throughout history, Sri Lanka has been known as a land of gems.The Blue Sapphire is king of Sri Lankan gems. The 400 carat Blue Sapphire called "Blue Belle", which adorns the British Crown, is from Sri Lanka. You will witness lots of precious gems in one place and will have a chance to own some if you wish.
---
Day 2 – Nuwara Eliya
Tea Factory : Then while you on the way to Nuwara Eliya, you will visit Tea Factory. The surroundings are really spectacular and beauty. Beautiful tea estates are located in cold climate. Also there is mini tea factory where you can have a visit and learn about making Ceylon Tea. Also you can buy some tea, which is made at the same factory for yourself from the shop. 
Ramboda Waterfall : Ramboda Waterfall is 109m high and 11th highest waterfall in Sri Lanka and 729th highest waterfall in the world. It is situated in Pussellawa area, on the A5 highway at Ramboda Pass. It formed by Panna Oya which is a tributary of Kothmale Oya. Altitude of the falls is 945m above sea level.
Horton Plains : Horton Plains is the highest plateau or table land in Sri Lanka. its elevation ranges between 1800m and 3300m. On the north-eastern side of the plains is seen Totupalakanda [2358m] and on its south western side Kirigalpotha [2398m]. This forest grassland ecosystem was first recognized for its outstanding beauty  by the British in the 1820's and they named it after sir Robert Wilmot Horton, the governor of Sri Lanka. One of the most fascinating and characteristic features of this beautiful landscape is its rolling hills. The forest is about 75% and the grassland about 25% of the reserve. The trail to world's end is about 10km up and down. The time required to walk the trail leisurely is about 3 hours. May you enjoy the beauty and peace of the plains, learn at least a little about it and make active contribution maintain it for future generations. Declared world heritage site in Sri Lanka by UNESCO.
---
Day 3 – Ella 
Nine Arch bridge : This viaduct was built at Gotuwala between the two railway stations – Ella and Demodara during the British Colonial period is the largest in Sri Lanka. Located almost 3100 feet above the sea level, this 99.6ft high bridge is called "Ahas namaye palama" (Nine skies bridge) in Sinhala. When one stands underneath it and looks up there is a beautiful sight of 'nine skies' through the nine arches, hence the Sinhala name. This bridge is also called 'The Bridge in the sky' due to the sheer hight.
Little adams peak – Little Adams Peak whether considering the word 'Little',it is named after the sacred Adams Peak (Sri Pada –where the foot print of Lord Buddha is preserved) regarding the similarity between the two mountains. Therefore the mountain was called as Little Adams Peak. "Punchi Sri Pada" is another name for this peak. It is 1141 m in height. Little Adam's Peak attracts many travelers who come to Sri Lanka. Gradually with an easy hike up to the mountain of Little Adams Peak you can consummation a worth panoramic view. You have to walk through lush green tea plantations, waterfalls and paddy fields while enjoying the sceneries.
---
Day 4 – Tissa 
Yala National Park – Ruhuna National park or more affectionately known as Yala, has been the most celebrated wildlife park in Sri Lanka for over a century, along with its first self appointed Boer prisoner of war game warden H.E.Engelbrecht, quiet a story in itself. It is located in a tract of land covering approximately 1260 km2, between Kumbukkan River & Menik River, and shares its borders with Yala strict nature reserve, Kumana, Kataragama, Katagamuwa and Nimalawa sanctuaries.  This is an amazing experience where you will see wild animals closely and lifetime experience of being with real wild animals like elephants, leopards and lot more. 
---
Day 5 – Mirissa 
Relaxing on Mirissa Golden Beach : Mirissa and its breathtaking sandy beach pretty much transforms your dreams and visions of a tropical paradise into an everyday reality. Located close to the Southern tip of the Island of Sri Lanka and only about 200 km from the Equator, this secluded crescent shaped beach is the perfect place to sit back, relax and forget about all the hussle and bussle of your other life that's a million miles away. This small sandy tropical beach boasts some of Sri Lanka's best and most stunning sunsets and sunrises. You may relax the day on this golden beach and enjoy the one of the most beatiful view of sunset in the evening with sun bath and many more fun activities. 
---
Day 6 – Negombo 
Turtle Farm & Turtle Hatchery : Kosgoda is famous for its turtle hatchery- operated by the Wild Life Protection Society of Sri Lanka. It was established in 1981 to protect Sri Lanka's turtles from extinction. The hatchery pays fishermen for eggs that they collect at night along the sandy beach. Visitors can see huge tanks filled with new born turtle hatchlings. After being fed, the baby turtles are taken to the sea and released when they are 2-4 days old, usually during the safer hours of darkness. Although October to April is the main laying season, some eggs can be found at Kosgoda throughout the year. The beaches of Sri Lanka are the nesting grounds for five species of marine turtles. They are the Green Turtle, the Leatherback, the Hawksbill, the Loggerhead and the Olive Ridley. All 5 species have been recorded to nest along specific areas of Sri Lanka's coast. Studies have indicated that beaches can be categorized in accordance with visitation by different species of turtles.
Madu River Safari : Madu river is situated in Balapitiya, along the country's southern coast, within the Galle District of the southern Province of Sri Lanka. It opens to the Indian Ocean Madu lagoon is a very wide and a beautiful lagoon in sri lanka. It is in the wet zone of sri lanka with a high bio-diversity. Madu River has been proclaimed a Ramsa wetland in the world in 2004. This is a very famous and popular among the lovers of nature in the world.  
Colombo City Tour : You will visit the Colombo city which is the main business city in Sri Lanka. You will see several places where tourists are mostly attracted to. Also shopping is another thing that you can do during this city tour according to your requirements. 
---
Day 7 
Negombo Beach : Once you reach the hotel, you can relax on the beach and make your journey unforgettable by adding delicious seafood to your dinner. You can spend the rest of the day at beach and pool. 
Airport transfer : We will provide you airport transfer from hotel
 ~ End of Service ~
---
Terms & Conditions 
All hotels are standard hotels with BB basis. This includes hotel room and breakfast per day. All our hotels are well recognized and popular hotels and we always provide you the best hotels.
All the tickets and fees are included in this package
**Special lunch is included as mentioned in the itinerary
** This package is also available with star class (3 start, 4 star and 5 star) hotels, price will be changed accordingly